Guide
The genetic relationship of all cells of an individual organism can be described by a cell lineage tree. Cell lineage is of great significance for understanding the physiological and pathological processes of cell phylogeny, cell differentiation, organ maintenance and aging of multicellular organisms. At present, DNA barcode technology is mainly used to record mutations generated during cell division to restore cell lineage. However, available DNA barcode technology records that each barcode only carries 3-5 mutations, which limits scientists' research on cell phylogeny of complex multicellular organisms.
Content
The team of He Xionglei of Sun Yat-sen University has long been committed to the optimization and innovation of DNA barcode technology. On December 2, 2021, Professor He's team published an article "Mapping single-cell-resolution cell phylogeny reveals cell population dynamics during organ development" in Nature Methods (IF=28), introducing a cell lineage tracing system based on single-base mutations - SMALT (substitution mutation aided lineage tracing system). They applied the SMALT to construct transgenic Drosophila melanogaster strains, and surprisingly obtained on average more than 20 mutations in the barcodes, which is the first to achieve more reliable results of cell lineage relationships during cell phylogeny of complex multicellular organisms at the single-cell level.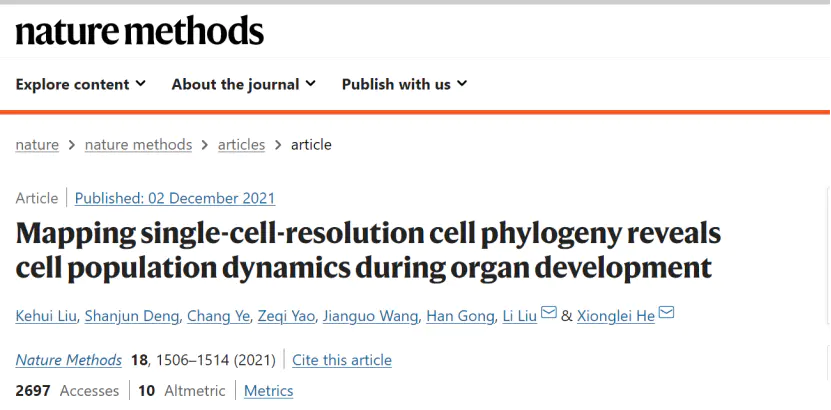 Click here to read the original article: Mapping single-cell-resolution cell phylogeny reveals cell population dynamics during organ development | Nature Methods
In addition, researchers have developed an analytical method - ICPD, which uses the cell lineage tree to restore the number of progenitor cell populations with division activity. The population history characteristics of the organ phylogeny are inferred from the cell lineage tree. The results show that different organs have unique population history characteristics, and this feature has a high degree of consistency among different individuals. Further more, it is found that the total number of cells produced by division in each organ is significantly related to the actual number of cells in the organ, and its explained variance reached 74.5%, which indicates that the division activity of the cell population has an important effect on the stability of organ size.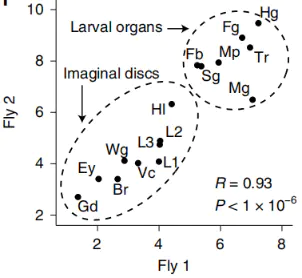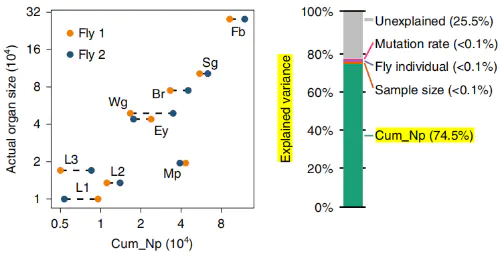 The divergence time of the organs of Drosophila larvae
The number of dividing cells is consistent with the number of actual organ cells

YEASEN Biotechnology: providing a complete solution for NGS library construction
It is worth mentioning that this high-level article uses the Hieff NGS® OnePot II DNA Library Prep Kit for Illumina® - "one-step" DNA library construction kit provided by YEASEN Biotechnology to construct the Drosophila melanogaster DNA library. This kit uses high-quality fragmentation enzymes to combine the fragmentation module and the end repair module, which greatly reduces the time and cost of DNA library construction. To be specific, it can be used for samples of 500 pg-1 μg animal and plant genomes, microbial genomes, etc. Meanwhile, it is compatible with the library construction of FFPE DNA samples. After sequencing verification, samples with different GC content can obtain excellent sequencing results, making library construction easier and more efficient.
At present, YEASEN Biotechnology can provide our customers with a sound nucleic acid extraction and one-stop library preparation solutions in MGI and Illumina sequencing platforms, and every batch of the related products go through strict quality control of efficacy and stability to ensure the excellent performance of products, strongly guaranteeing researchers to carry out high-quality scientific research.
The product list you may be interested in is as follows.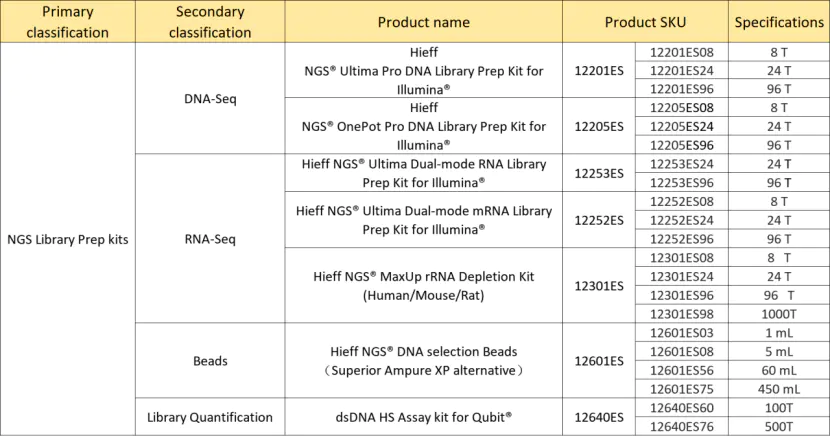 About us
Founded in 2014, Yeasen Biotechnology (Shanghai) Co., Ltd. is a high-tech enterprise focusing on the research and development and production of tool enzyme raw materials and antigen antibodies, and is committed to providing customers with high-quality products and services in the field of life sciences. The products cover basic biological reagents related to scientific research, as well as core enzymes, high-throughput sequencing kits, molecular diagnostic raw material kits, drug production raw materials and detection kits and other products related to the field of precision medicine. Our products are widely used in scientific research, in vitro diagnosis(IVD), biomedicine, vaccine development and other fields, and of good quality by obtaining the ISO 13485 quality certification and strictly following the GMP standards.