Description
Protein A/G MagBeads use "nano-surface biotechnology" (S-TEC) to target Protein A/G onto the surface of superparamagnetic polymer microspheres with high density. It has higher antibody binding ability and very low non-specific adsorption rate of protein. One-step purification can isolate the antibody with purity >90% from the serum sample, which is simple and effective to use. Natural Protein A is a cell wall surface protein found in Staphylococcus aureus. Natural Protein G is a cell surface protein isolated from the genus G or C Streptococcus. Both have similar functions and bind most mammalian IgG by interacting primarily with the Fc region of immunoglobulin (Ig), but differ in their binding specificity. Protein A/G MagBeads covalently conjugate both protein A and protein G, providing A wider binding range and higher utility than either protein A or protein G alone. At the same time, this product uses genetically modified proteins A and G, which not only maintain their Ig affinity properties, but also remove the non-major binding domain of the natural protein itself to reduce non-specific binding. This product has a wide range of application, can be used in cell lysis fluid, cell secretory fluid supernatant, serum, animal ascites and other immune antigen samples.
Features
Low background—little to no nonspecific binding, and no preclearing

Highly reproducible—uniform beads ensure the most consistent results

Highly sensitive—Magbeads technology is the most cited method for sensitive applications, such as ChIP and IP, of low abundance proteins

Fast and easy— no centrifugation or preclearing steps

Versatile—products for IP, Co-IP, pull-down, and ChIP assays.
Applications
Immunoprecipitation (IP)

Purification of antibody
Specifications
| | |
| --- | --- |
| Ligand | rProtein A/G |
| Binding Capacity | ≥50 μg hIgG /mg |
| Particle size | 1 μm |
| Concentration | 10 mg/mL |
| Storage Buffer | PBS, 0.01% Tween-20, 0.02% NaN3 |
Components
| | | | |
| --- | --- | --- | --- |
| Components No. | Name | 36417ES03 | 36417ES08 |
| 36417 | rProtein A/G MagBeads (IP Grade) | 1 mL | 5 mL |
Storage
The products should be stably stored at 2~8℃ for 2 year.
Figures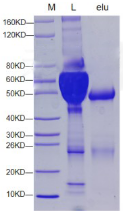 Figure 1. The SDS-PAGE gel electrophoresis results of Rabbit serum purification by Protein A/G MagBeads (IP Grade).
L: sample
L: eluate